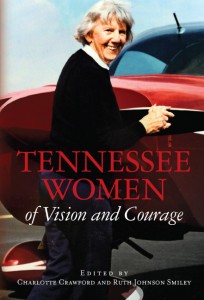 Tennessee Women of Vision and Courage (2013)
Eds. Charlotte Crawford and Ruth Johnson Smiley
Many women contributed in significant ways during the more than 200 years of Tennessee history. However, only a small number are included in history books. AAUW Tennessee is proud to support the Tennessee Women Project's publication of Tennessee Women of Vision and Courage, which profiles twenty-two women who lived from frontier times to the 20th-Century. Educators, artists, journalists, scientists, athletes, politicians, business women, social activists, and often wives and mothers—these women of vision and courage contributed significantly to Tennessee history.
Tennessee Women of Vision and Courage was nominated for several books awards, and in 2014 it won the East Tennessee Historical Society Award of Distinction. A copy of the book has been placed in every high school in Tennessee.
Read more about the Tennessee Women's Project  or go directly to their facebook page.
Contact: Charlotte Crawford or Ruth Smiley at tnwomenproject@gmail.com.