Equal Pay Day April 2, 2019
This is the date by which a woman's annual salary in 2019 catches up to a man's.
The Gender Pay Gap by State
Every U.S. state has a gender pay gap, and some are wider than others. See how your state's gender pay gap stacks up. Share this infor
mation with state and federal legislators as a call to action for stronger laws and use it to educate folks in your community about the gender pay gap.
Image Caption and ALT Text: EPD state map shareable.
Interactive infographic: To embed on your own websites, visit https://infogram.com/1p5e3k03y7nqnxup79dwm7edvyh3ywz27q9 and click the share button for appropriate code.
State Resources: A state press release, a graphic for embedding on your site and sharing on social media, and a road map to equal pay legislation in your state are available at https://www.aauw.org/resource/gender-pay-gap-by-state-and-congressional-district/.
Pay Gap Facts
On average, women who work full-time earn about 78 cents for every dollar a full-time male worker earns.
The pay gap persists across all racial and ethnic groups, and it is found in every state.
The wage gap was largest for Hispanic and Latina women, who were paid only 54 percent of what white men were paid in 2013.
The pay gap is a family issue. 40% of households with children include a mother who is either the sole or primary earner for her family.
Education does not close the gap. Women with multiple degrees, as well as those working in business, finance, and management, experience the greatest gap, which is on average 22%.
Over a lifetime of work (47 years), the total estimated loss of earnings of women compared with men is $700,000 for a high school graduate, $1.2 million for a college graduate, and $2 million for a professional school graduate.
In Tennessee more than half of all women participate in the labor force. Six out of 10 families include both parents working, and 7 out of 10 female-headed households include women working according to national data. Today, most women we know work and take care of their families at the same time. Their income is important to the economic well-being of their families and the community.
Every generation of women that has entered the workforce experiences the pay gap. The gap is larger in occupations requiring advanced degrees—law, finance, and management, for example. Even women graduating from college and entering the workforce for the first time experience a 7% wage gap on average. Today, women in Tennessee earn 82 cents on the dollar to men on average. The pay gap is much larger for African American and Latina women, who respectively earn 63 cents and 56 cents on the dollar.
Median Earnings in Tennessee
Men $41,493
Women $34,301
Close the Gap
Support Federal Legislation!
Paycheck Fairness Act: The PFA would improve the scope of the Equal Pay Act, which hasn't been updated since 1963, with stronger incentives for employers to follow the law and prohibit retaliation against workers asking about wage practices.
https://www.aauw.org/fairpay/
Sources: -U.S. Census Bureau
http://www.census.gov/compendia/statab/
AAUW https://www.aauw.org/
National Committee on Pay Equity
http://www.pay-equity.org/
AAUW (American Association of University Women) has been empowering women as individuals and as a community since 1881. For more than 130 years, we have worked together as a national grassroots organization to improve the lives of millions of women and their families.
Many of the AAUW Branches in Tennessee plan activities to bring attention to the importance of the day. For ideas on activities and events go to: https://www.aauw.org/resource/how-to-equal-pay-day/
For more information about Pay Equity visit the Equal-pay page at:  https://aauw-tn.aauw.net/advocacy/equal-pay/
Equal Pay Day – Martin Branch
On April 14, 2015, the day designated as Equal Pay Day, the Martin Branch was involved in a variety of activities: 1) Proclamations were signed by the City of Martin Mayor Randy Brundige (with Sue Byrd, AAUW-TN President and Sam Ray, Martin Branch president) and the Weakley County Mayor Jake Bynum (with Same Ray, Martin Branch president and Marti Herndon, Martin Branch finance officer). 2) At UT Martin branch members participated in a tabling event outside of the cafeteria distributing 78 cent dollar bills and informing students of the pay gap that exists between women and men doing the same job. 3) A lecture was held on the UT Martin campus where branch members, including student AAUW members presented information about paycheck fairness and the wage gap.
Equal Pay Day – Knoxville Branch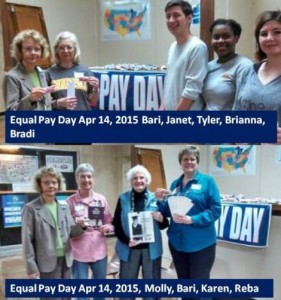 AAUW Knoxville members, Bari Gerbig and Janet Murray, along with UTK students Tyler Lampley, Brianna Fields, and Bradi Musil handed out informational bookmarks, Pay Day bars with sweetener Equal packets attached, and AAUW materials, on Equal Pay Day, April 14, 2015, in the UTK Student Center.  Other members who helped were Karen Kooeyman, Anne Loy, and Reba Best.  More than a dozen students took turns, organized by graduate student TAs, Kate Kleinkopf and Katie Conrad; Dr. Pat Freeland, Director of the Women's Studies Department was in charge.
INFORMATION ABOUT EQUAL PAY ISSUES
More information about equal pay issues can be found at:
https://www.aauw.org/research/the-simple-truth-about-the-gender-pay-gap/
http://www.nwlc.org/our-issues/employment/equal-pay-and-the-wage-gap