NOTICE: For the 2019 AAUW-TN NCCWSL Scholarship nominations are due NOVEMBER 1, 2018 with the students' applications due NOVEMBER 15, 2018.  This will allow us to take advantage of the price break for the Early Bird Registration deadline which is January 31, 2019.
AAUW of Tennessee is proud to offer opportunities for leadership development for university and college women in Tennessee through scholarships to attend the National Conference for College Women Student Leaders  (NCCWSL).  NCCWSL is a two-and-a-half day conference designed to enhance the leadership skills of college women students and to promote effectiveness in their work on campus and in the community. For more information about NCCWSL go to www.nccwsl.org. In the past 3 years Tennessee has selected 2 to 3 recipients each year. For 2019, NCCWSL will be held May 29-June 1, 2019, at the University of Maryland, College Park.
Each year AAUW College/University Partners in Tennessee and AAUW Tennessee Branches have the opportunity to nominate undergraduate students currently attending a college/university in Tennessee for AAUW-TN scholarships to attend NCCWSL. Scholarships cover conference registration (including lodging and meals). AAUW Tennessee branches and AAUW College/University Partners who nominate students are expected to contribute to their travel expenses if they receive AAUW-TN scholarships.  AAUW-TN has awarded college women the NCCWSL Scholarship since 2005. Here is the link to the 2019 call for nominations  NCCWSL call for nominations.
2018 AAUW OF TENNESSEE  SCHOLARSHIP RECIPIENTS
Maddie Stephens is a Senior English Literature major at The University of Tennessee, Knoxville and was nominated by UT Knoxville College/University Partner representative.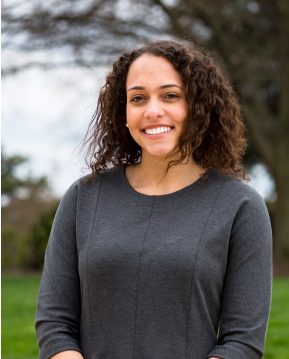 In her own words: Throughout my leadership journey, I have learned countless valuable lessons about myself and the challenging practice of leadership. Leadership comes from the desire to serve. Because of my heavy involvement with UTK's Center for Leadership and Service, service is one of my important core values. I strive to approach all my leadership roles and extracurricular activities with a servant heart and a goal to help others. Using this goal as my guiding compass has helped me continually lead with integrity.
When I arrived at the NCCWSL, all my anxiety about attending a national conference morphed into awe. There were over 500 diverse participants, young female student leaders like myself with incredible stories of perseverance and triumphs, that reminded me of why I chose to run for Student Services Director for SGA at UTK in the first place and why my voice deserves and needs to be heard. The breakout sessions were tailored to relevant, big questions and concerns I had at the time: barriers for women of color in leadership, mapping your social justice journey, the dark side of social media, and career advice for female graduates.
I was also able to listen to powerful female leaders already changing the world nationally and locally as we know it including Tarana Burke, founder of the #MeToo movement, and Murfreesboro's Vice Mayor Madelyn Scales Harris who is influencing our own Tennessee community. They had extensive wisdom to provide and reaffirmed the importance of remaining politically active and my drive to serve in public office in the future. Additionally, I made lasting friendships with students from all over the country including Connecticut, Minnesota, and Florida, and of course Ashley, my fellow Tennessee participant! We still keep in contact with one another and have formed a wonderful support system that always brightens my day. I can't possibly sum up my experience better than this one quote "Equity is an admirable goal, but without action, it's just talk." I'm so thankful to have had this wonderful experience and I hope to continue to grow into the leader NCCWSL and AAUW are educating and inspiring women to be!
Ashley Mendez, Senior Dietetics student, The University of Tennessee at Martin, was nominated by AAUW Martin Branch.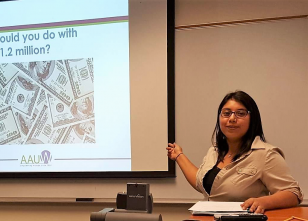 In her own words:  While striving to become a better version of myself, I have been fortunate to have been provided with many opportunities of growth.  These opportunities have shaped me every step of my college career into an independent, ambitious, and successful woman. The most valuable lesson that I have taken from my experiences is the importance of good communication.   Poor communication can deter a group from achieving its goals.  However, good communication allows for a group to work more efficiently and overcome obstacles.
Attending NCCWSL provided me with an incredible opportunity to be surrounded by not only a group of diverse strong women, but also a group of women working towards a common cause who empower each other through positivity.  I learned so much from empowered women of all ages who have become strong fearless leaders in their communities and across the country.  These included Tarana Burke who stated "I am a survivor that came up with a solution." The breakout sessions were tailored for our own individual needs and were phenomenal!!  The networking that took place helped me to make life-long friends from across the country and I learned I am not alone in the challenges I face.  I am now armed with what I need to move forward to promote women equality!!  I would love to attend NCCWSL again as it was so inspiring and uplifting!!!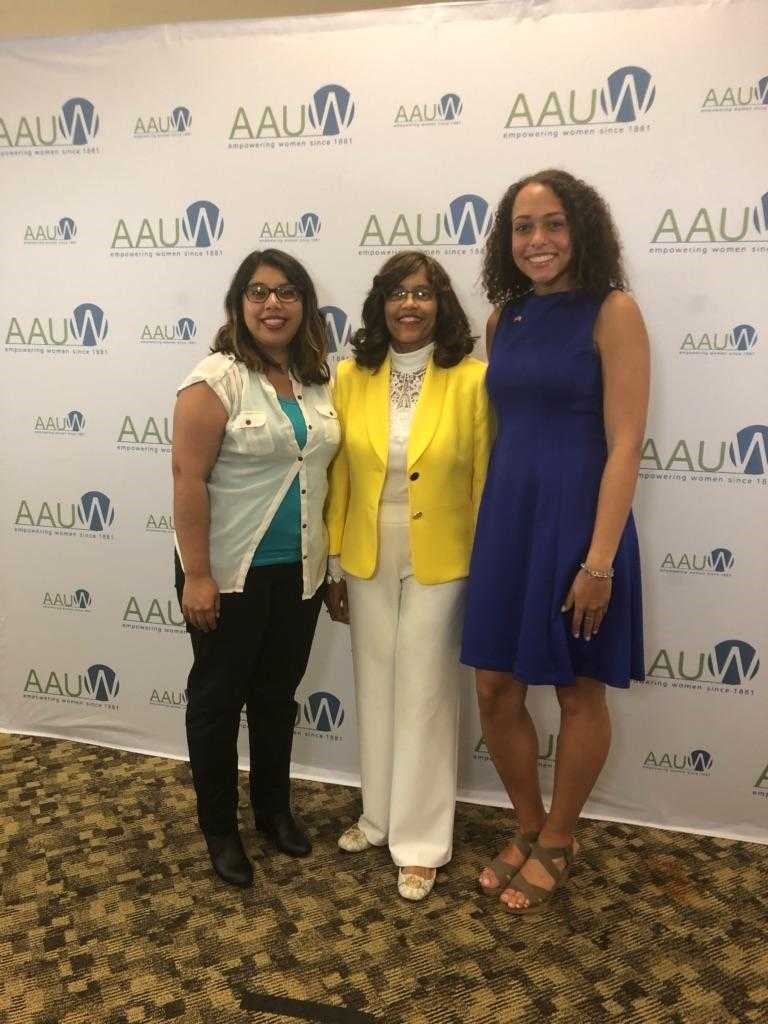 2018 NCCWSL participants Ashley Mendez (L) and Maddie Stephens (R) are shown here with Murfreesboro Vice Mayor Madelyn Harris who spoke at the conference.
AAUW OF TENNESSEE PAST SCHOLARSHIP RECIPIENTS:
2017 AAUW-TN SCHOLARSHIP RECIPIENTS:
Gaye Coleman from UT Martin said this about her NCCWSL experience: "I was so impressed, not only by the quality of speakers, but also by the participants as they shared their own stories in small breakout sessions and over meals.  Timely topics included leadership development, professional development, activism, women's issues, identity and diversity issues, plus group think sessions." Gaye's big take-away was: "Find your voice and never stop telling your story."
For Bonnie Carroll of MTSU, "one message resonated…strong women need other strong women." She stated: "I have never felt more important or valid anywhere than I did at NCCWSL. Surrounded by confident and successful women, I was constantly reassured that my feelings, aspirations and thoughts were all very significant. I left each workshop and lecture with something intangible that I knew would help me to become a stronger and more competent leader."
Amela Gjishti from TN Tech University shared that "All the speakers…highlight[ed] how important it is to be yourself and how not to be afraid to speak up for what you think is right or wrong." She went on to say: "What actually impressed me the most was the fact that even though all of the girls that I met came from different cultural and education backgrounds, we would perfectly relate to each other when it came to how we approach different things in life."
2016 AAUW-TN SCHOLARSHIP RECIPIENTS ARE:
Molly Blankenship, MTSU alumnus majored in Liberal Studies with concentrations in Political Science and Social Work/Advocacy. Ms. Blankenship is Founder and Director of two nonprofit community organizations: (1) Reclaim Ourselves, an organization dedicated to utilizing the arts as a mechanism for advancing social change and (2) The Lavinia Project, a community literacy project for survivors of domestic and sexual violence. She plans to use the information from NCCWSL "to be empowered to expand and advance my leadership skills so as to be more effective as an agent of change on behalf of underprivileged and marginalized populations in the society in which we live."
Haley Wilson (recent UT Chattanooga graduate) majored in Political Science with a focus on American Studies with a minor in Women's Studies. Ms. Wilson held a number of campus leadership positions, including Sisterhood Chair; ELECT HER Planning Committee; Tennessee Intercollegiate State Legislature: Lobbying CEO 2015, Lobbying Director 2016; Tennessee Intercollegiate State Legislature UTC Delegation: Secretary 2015, Vice President 2016.
Ufuoma Peace Otebele (UT Martin alumnus) majored in Biology with a minor in English. Ms. Otebele was UT Martin's Women Student Association President. She says, "Attending NCCWSL meant the world to me and will indirectly profit many women around the world."
2015 AAUW-TN NCCWSL Scholarship Recipients
One of the 2015 Recipients was: Megan Merrick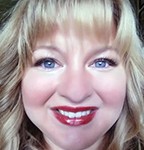 Megan Merrick, a recent graduate of Middle Tennessee State University, attended the National Conference for College Women Student Leaders, May 28-30, 2015, at the University of Maryland, College Park. She was one of more than 1,000 young women from across the country and around the world who attended the conference. Attendees participated in 50 workshops and networked with representatives from more than 80 graduate schools and employers. Merrick was president of the MT Anthropology Society and had a double minor in archaeology and history.
Past recipients are:
2015 Recipient
Megan Merrick, MTSU
Sarah Dianne Jones, Maryville College
Jamie Farris, UT Martin
2014 Recipient
Sophia Naomi Plant, MTSU
2013 Recipient
Kellum K. Everett, MTSU
2012 Recipient
Jullian Harris, University of Kentucky
2011 Recipients
Lisa Walker, MTSU
2010 Recipients
Mandi Leigh Smith, Maryville College
Jennifer M. Swegles, UT Martin
Kamryn Warren, MTSU
2009 Recipients
Carlissia N. Graham, Univ of Memphis
Leslea Robertson, UT Martin
2008 Recipients
Monique Denney, MTSU
Ashlyn Gurley, Maryville College
Katie Beth Price, UT Martin
2007 Recipients
Claire M. Beck, Belmont Univ
Page Goad, TN Tech
Nora M. Cook, Belmount Univ
2005 Recipients
Heidi von der Lage, recommended by Oak Ridge Branch
Candace Marshall Hannan, recommended by Oak Ridge Branch